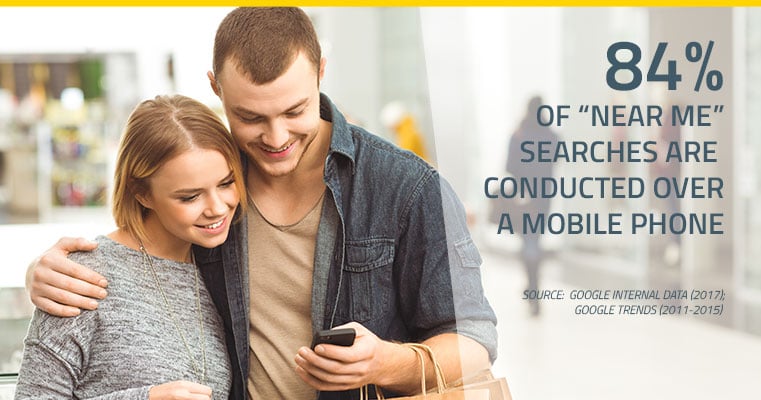 How many times have you pulled up your smartphone and typed in something "near me"? According to Google, 84% of "near me" searches are conducted over a mobile phone. Wouldn't it be nice if you could be at the top of the list anytime someone googled for your product or service in your area? Check out our tips on how to connect with local customers through digital marketing.
Google reports that 3 out 4 people who conduct a search on a smartphone visit a related business within 24 hours.
The Generation of Immediacy
Consider how many mobile devices are in use these days, and how often they are looked at. On average, people check their phones 150 times each day for about 70 seconds each. Welcome to the generation of immediacy. How do you make yourself known in a market that moves at such a fast pace?
You may be surprised to hear while most initial searches are happening online, 85% of all transactions are still happening at a local store. Google reports that 3 out 4 people who conduct a search on a smartphone visit a related business within 24 hours. Once again, this confirms that we live in a society of immediacy. If you can get them to your website, you need to be able to give them what they want in a short amount of time. First, make sure your site is user-friendly and mobile-responsive.
Business Listings
Second, let's figure out how we can drive more traffic to your site and ultimately to your front door. You can create a free business listing with Google or better yet, tap into our partnership with Yext for accurate and cohesive listings across the web. When someone searches your business or business type in your area, you will want yours coming to the top of their screen. Be sure to include a phone number, hours of operation, directions, and a link to your website. Focus on search engine optimization (SEO) using keywords throughout your website, as well. Think about what types of keywords people will be using to find you.
Geotargeting
Third, if you have a little flexibility in your digital marketing budget, get started with some digital ads. Be selective about where or when your ads appear to ensure you're speaking to people at a time when they're most likely to buy. While people may not be initially searching for your site, ads can be targeted to pop up on the mobile devices of people within a certain area (i.e. zip code or radius around your business). Say hello to geotargeting. Google AdWords, Facebook Ads, and Facebook post boosting give you the option of selecting a certain area or radius. Use this to your advantage. Who is your market?
Retargeting can come into play, as well. Google AdWords can help you drive previous website visitors back to your site again. For example, consider someone who dropped by your website while beginning to shop for vehicles everywhere online. Then they narrowed their search to dealerships within their local area and continues to peruse the web for other things over the course of the next 90 days. With the use of retargeting, your ads can start popping back up here and there reminding them to take another look. Your ad may even be speciic to one vehicle that he/she viewed on your website previously. Finally, when when he/she is ready to make a purchase decision they may remember seeing the same vehicle they're in market for through your ads and give you a call.
If you like the sound of where we are going with all of this, let's connect. At Right Idea Media & Creative, we strive to help you connect with local customers. We would be happy to help develop just the right idea and strategy for your business.