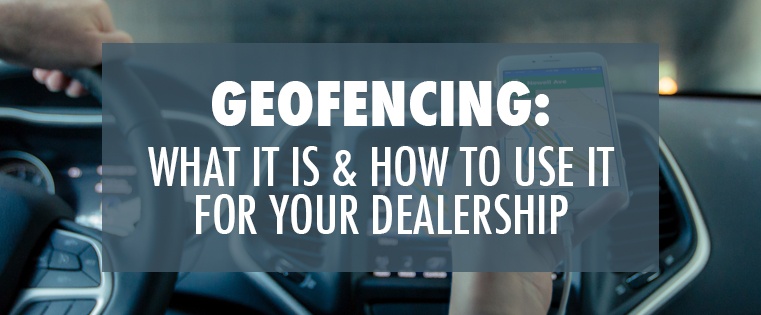 Imagine customers are in your competitor's showroom looking at a vehicle and hop on their smartphone to check a few more price points. They get on their phone and see a deal from your dealership with a similar vehicle at a lower price point. Next thing you know, those same customers have walked through the door of your showroom wanting that great deal.

A geofence creates that exact opportunity for your dealership. Let's take a look at what geofencing is and how to use it.

What is Geofencing?

Geofencing, in more technical terms, uses the Global Positioning System (GPS) satellite network and/or local radio-frequency identifiers to create virtual boundaries around a location. The geofence is then paired with a hardware/software application that responds to the boundary in some fashion as dictated by the parameters of the program. In other words, geofencing is a location-based digital marketing tool that lets marketers send messages to smartphone, desktop, and tablet users in a defined geographical area.

Geofencing is marketing material being placed directly in front of interested customers searching for a great car deal. Marketing that is pin-point personalized will convert much higher compared to one-size-fits-all marketing, because you'll actually be speaking and selling to the customer's interests, situation, and stage in the buying cycle — instead of letting one message wash over a majority audience that it won't directly apply to.
How to Use Geofencing
Geofencing creates a large opportunity for marketers. Your dealership can be right in front of car shoppers who are already on the go— whether that customer is on your own showroom floor or just out and about. In order to create a successful geofence you must have an effective message and well-placed geofence(s).

When deciding how to use a geofence, it's important to put the "customer cap" on — if you were a customer searching for a vehicle, what would pull you from one dealership to another? Where would you search for information on-the-go regarding vehicles? The messages displayed for customers must be enticing enough to learn more, then lead them to a landing page that is just as captivating with strong calls to action. It's important to keep in mind that your message may draw customers at various points within the buying process. Multiple offers will allow you to analyze which gets the highest conversions.

A few examples of how to use geofencing:
Push model offers by area: Neighborhoods within the city have an average demographic more likely to buy a certain model. Give them those deals.

Drive traffic from outside market: Give customers an offer they can't resist, customers that may not typically visit your dealership. A great deal plus a small incentive goes a long way!

Make community-based offers: Offers that create a connection and relationship with the community around your dealership.
Next, your strong message is only as effective as your actual geofence — where you choose to geofence can impact your campaign. To begin, geofence your own dealership, maybe customers headed to the lot aren't aware of great deals they can get. And a surefire way to lock in the deal is to make the deal even sweeter for the customer. Next, think outside your own dealership box. Where are your customers likely to be? An easy first target is your competitors — competitor conquesting has proven to be very successful.
Start Geofencing and Drive Nearby Shoppers to Your Showroom
Geofencing is a simple marketing tool that can prove wildly successful for your dealership. Customers in search of a vehicle are served deals they just can't turn down, both on your lot and on your competitors' lots. The perfect message delivered to in-the-market customers is just what your dealership needs! Drop us a message today to learn how we can help implement your geofencing strategy.