Many dealerships across the nation are forced into using a specific designer/company for their website. The more popular providers are Cobalt, DealerOn, and Dealer.com. These website are all supported by a similar template.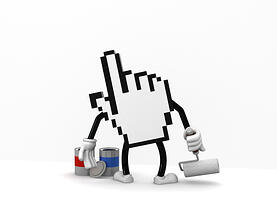 The process goes a little something like this: The website is created and it is set up with a template that uses basic information. Your logo and dealership information will be applied to the front page, your inventory will be added, and that's where the customization ends. If you do not make changes, your site will contain outdated information and look like every other dealer website.
Here is a list of tips to help improve your dealership website by making it more appealing and unique. A more personalized site aids in increasing viewership and creating strong leads. Some of these tips may also be applied to non-dealership websites looking for a facelift.
Personalize the slide show. Are you displaying your current advertising promotions front and center? Many times the slide show on the main page is filled with stock photos and basic information. Improve it by adding your own photos. These photos can include your building, staff, inventory, and mirror your overall advertising campaign.
Staff Page. Make this page as personable as possible. Photos of the staff are a must. Have each staff member fill out a small questionnaire about themselves and use that information for a bio. Also include any contact information.
Personalized Video. Your dealership is more than another generic "about us" blurb, let your visitors know this. Place a video on your main page or in the 'About Us' tab that introduces yourself and your company. This video describes your business history, who you are, and what you do. This can be done by the owner or a compilation of various staff members.
Provide Links to Review Sites. Reviews can make or break a potential lead. Allow your site to access reviews from various sites or compile positive reviews. Set aside a website page for these to be viewed. Develop a process that encourages your customers to write reviews about their good experiences. Customers will make it a point to write about a negative experience but need an extra push to write about a good one.
Personalize All Pages.

With providers like Cobalt and DealerOn, many of the website pages contain basic information templates that plug your dealership information in. There is nothing unique about it. Maximize these pages by discussing your staff and individual strengths. For pages such as service and body shop, list specials, post coupons, customer quotes, etc.
Reduce the Clutter. Nothing turns away a visitor quicker than not being able to find the information they are looking for. Think about your personal experiences. Reduce the clutter of your website by removing unnecessary pages. If there are pages that are extremely similar, compile the information into one. Make the site as easy to browse as possible. If your analytics are showing that certain pages are rarely viewed, try improving their quality or remove them completely. Check out four useful analytics here.
Inventory Prices. Those browsing your inventory are comparing prices and looking your advertised information and deals. Displaying markdowns and savings are eye catching and immediately generate interest. When dealing with inventory prices, whether they be used or part of a current promotion, show the change in price. This can be achieved by simply placing displaying a "was" and "now" in the listing. Seeing a price difference helps peak interest and the urgency to buy.
Cohesive Inventory Presentation. Well organized inventory helps your visitors browse information with ease and aids in turning them into a lead.Develop a template, for inventory photos and listings, and use it across all inventory. Choose a location to take photographs of all your vehicles that allows the vehicle to be the highlight. Also, choose the same angle for all photos. Along with creating a different template for both new and used, also add your dealership logo and a Unique Selling Position. Ex. Lifetime Vehicle Warranty.
Provide Social Media Links. Social media helps keep in touch with both current and potential customers. Add all social media links including Facebook, Twitter, and LinkedIn. This allows those visiting your site to like/follow you various pages and be presented with current offers/promotions. That is, if you are managing your social media accounts. If your social media is not being utilized and your last update was months or years ago, remove these links from the site.
Managing the Fold. The fold is what you see when opening a website without scrolling down. Although the main page of your website will have a lot of information, it is very important to keep your focus and most important information above the fold. A good rule of thumb is to have your information slideshow, inventory search, and a call to action in the top half of your page.
By going through this checklist, you will have an improved website and should also see an improvement in your website analytics.