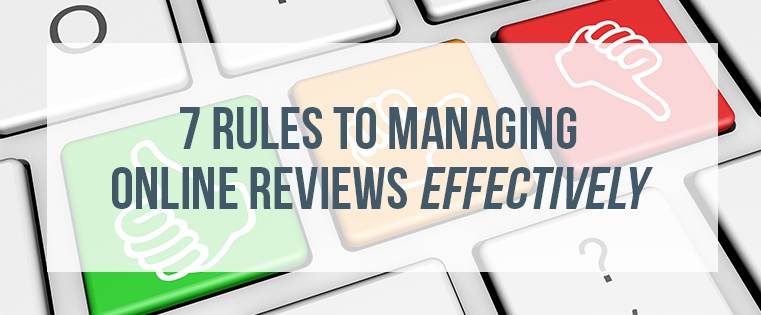 I think we can all agree that if online reviews had a reputation, they would be the know-it-alls. They have good information, but it should all be taken with a grain of salt.
Rewind to 2007 and a 'yelp' was just a loud noise that could be heard. Fast-forward to the age of online reviews and Yelp transformed into a hub of online customer reviews and a constant hassle for SMBs. Yelp, along with platforms like Facebook, Google, TripAdvisor and others, are everywhere; they cannot be escaped. The best option for your company is to embrace online reviewing and put it to use for you. As a business, reading online reviews is probably not at the top of your to-do list, but it should be! Keeping a close eye on your reviews can only increase your incoming business. The following guidelines should help you hit the ground running when it comes to online review management.
1. Devise a Plan
As with any new task or process, it is best to construct a plan of attack in order to make this process a well-oiled machine. A schedule of how and when you'll check as well as a designated response time window are the beginning to a successful relationship with online reviews. Once you make this plan, stick to it!
2. Be Present
One of the worst things your company can do is be listed on multiple review sites and never acknowledge or respond to reviews. Customers take the time out of their day to share their experiences both positive and negative. They aren't doing this for their own enjoyment. Responding to both positive and negative reviews will show that your company genuinely cares about performance and customer experience.
3. Know How to Respond & Do So Promptly
This part applies to all reviews but is most important when it comes to bad reviews. Angry customers share their experience with as many people as they can as quick as possible. Show your concern for the situation, apologize for any faults, and explain how you are going to make it better via a coupon, refund, whatever needs to be done. The key to success here is the right wording and the right tone. An honest attempt to correct the situation and offer a valuable solution, the more likely that the angry customer becomes a satisfied, repeat customer.
4. Encourage Reviews
Positive online reviews are a huge asset to your company and the presence it has on the internet. It would be silly not to ask customers for reviews. Most pleased customers have no problem filling out a quick review, especially after having an exceptional experience with your business. Reviews can be through email soon after the visit, from Facebook or Twitter, or following the checkout process. Don't be pushy, but don't be afraid to ask!
5. Be Authentic
As any business begins the journey of taming the online review beast, it can be a slow start. Maybe your customers aren't excited about leaving reviews. Maybe no one wants to be the first review. Whatever the case may be, do not hire fake reviewers. Fake reviews are fairly easy to spot and can ruin the credibility of your business if/when they are discovered. Incentives for your customers to leave reviews can lead you in the right direction!
6. Take Reviews to Heart
...But not all of them. As reviews grow in number, you'll learn the ins and outs of trusting them. There are some reviews that obviously over the top and certain customers have terrible experiences no matter what. But there are also reviews that are genuinely there to help the business. A simple suggestion to the business process that is probably worth your consideration, or at least taking to the drawing board.
6. Call for Backup
As a growing company, you may not have the necessary resources to dedicate to the management of your online reputation. It is a very important task that should not be ignored, but you can only manage so many things in a day. We have tools that simplify the whole process! We offer varying options to help manage online reviews and presence ranging from a do it yourself option to a complete online presence overhaul and management done for you. We can give you the tools to you, help you throughout the process, or take this responsibility off your hands. Online review management can be a daunting task, we're here for your company.
While online reviews can be pesky, they can also be quite helpful! The world of online reviews CAN be tamed with the proper processes in place. As much as we all may hate (or love) them, reviews are here to stay. Instead of ignoring them and hoping they'll fix themselves, taking a direct route and facing them head-on will be the best approach. A devoted, honest approach can turn your business into the go-to spot for customer needs. Whether you do it on your own or with some help, put those online reviews to work for your company!
Other Sources: