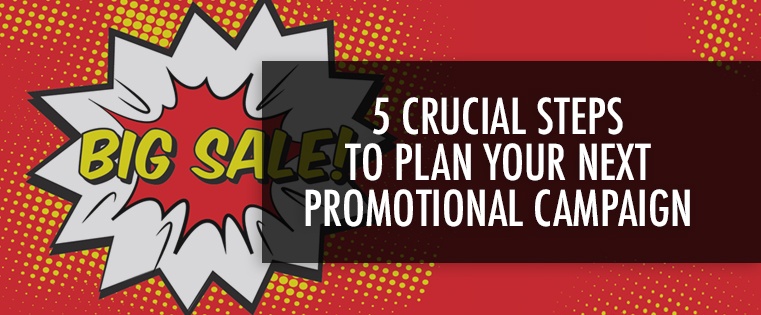 Promotional campaigns are similar to a game of chess. Chess is a game that takes a great amount of discipline and commitment; to learn the skills needed to outplay your opponent. So it is with successful promotional campaigns. It's a game of you vs. consumers. How can you get them to take your bait and do exactly what you hoped they'd do? Just like a well-played chess match, you need a well thought out strategic plan to acquire new customers.
Your promotional campaign should be seen, understood, and acted on. In order to achieve that, follow these 5 crucial steps:
Set Objectives
Begin with a detailed outline of the desired outcome of the campaign, a.k.a. a list of objectives. Are you trying to increase sales? Looking to attract a new audience? Reinforce brand values? If you're having trouble hammering out the specifics, think of how this campaign will be evaluated — what information you want to gather from it — and that should help clear up the objectives.
Identify Your Audience & Medium(s)
At first glance, defining your audience and choosing a medium may seem like two equally as large and separate tasks. Define your audience including basic demographic information, then understand them. Truly knowing your them means knowing where they spend their time, what they care about, how they behave, and where to reach them. Put yourself in their shoes. The best medium for your audience will reach the right person at the most opportune time.
Layout Your Budgets
One budget for the money aspect and one budget for the time aspect. The goal of these budgets is to achieve your campaigns as cost effectively as possible and with maximum profitability. By breaking down these costs, you will get a better idea on gauging the success potential of your campaign.
The money budget delves into the behind-the-scenes process of the campaign, from inception to completion. Look at fixed costs: production, media, agency fees, and any other costs that are consistent. Also include variable costs, costs that are dependent on number used, number of clicks, time dedicated, etc. For example, if your campaign includes a coupon, the cost will depend on how many people put the coupon to use.
The time budget ties directly into the money budget but is important to develop separately. The time budget helps you compile a checklist of everything that needs to get done by the start date and the time needed to complete each step. Items like concept development, copywriting, design, and artwork. Your time budget helps predict a feasible deadline and launch date.
Develop Your Message
The message of your campaign should include all the different parts into one unified package — the core message; the copy, images, layouts, themes, and more come together to form your unique selling proposition. Then, how can you present your complex message in a simple, appealing way? Focus on the concept, appeal, structure, and how to adapt it to various formats.

Evaluate Your Performance
This is one of the most important steps in the promotional campaign process. Although this is discussed last, the evaluation should not be an afterthought; it should be an integral part of setting objectives. For each objective, there should be a direct measurement related to gauging performance. Did the campaign meet your objectives? How did customers react to the promotion? How did the actual performance measure up against the planned objectives and projected performance? What could have been done differently?
The only way for your company to improve all promotional campaigns is to learn from each one as you go. The evaluation process will speak volumes and each promotion will get better. Always keep learning, always keep improving!
Creating promotional campaigns takes thought, patience, strategy, and on-your-feet thinking. Each move must be strategic until they're surrounded and have to give in!
If you're looking for all the right moves for your company's promotional campaigns, contact us — we've got a whole playbook ready to go!
Other Sources:
How to Plan the Perfect Sales Promotion Campaign by Promorati
The Steps in Planning an Effective Sales Promotion Program by Chron
3 Steps to Effective Sales Promotions by Entrepreneur