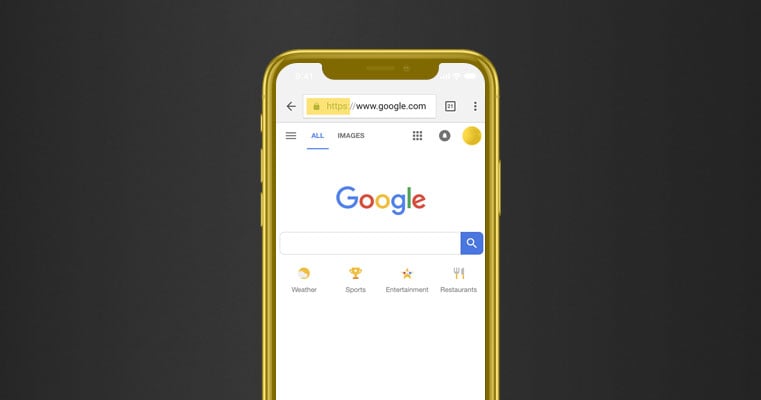 It goes without saying that more and more people are relying on search engines to inform their purchasing decisions. That means it's more important than ever that your business shows up close to the beginning of a relevant search.
Google Will Issue Onsite Warnings and Demote Your Mobile Search Engine Ranking Unless You Fix These Major Website Issues Before July

Google recently announced a couple of changes that they're rolling out in July that will affect where websites rank on mobile search. If you're wondering if your website is up-to-date, here are the two major changes to watch out for.
The Google Speed Update
Starting in July 2018, Google will begin to factor the mobile page speed of a website into its displayed search results. Websites that have long loading times for their users will be pushed further down in the list. While this policy was previously only for desktop searches, now it will be extended to mobile search as well.
According to Google, only a small number of websites that offer the slowest experience to users will be affected by the change. Although there are tools available to measure optimization (See Google's Mobile-Friendly Test), it's still unclear what the threshold will be for when a website's performance impacts its appearance on search.
If your website suffers from slow page loading speed, Right Idea Media and Creative can help! We can optimize your site speed before it's too late.
Chrome Will Mark Non-HTTPS Sites As 'Not Secure'
Google has been pushing for webmasters to switch over from HTTP to the more secure HTTPS for years, and now, they're making changes to push a little harder. Any website that hasn't made the switch to HTTPS will be listed as "not secure" in the browser window.
Despite the advantages of HTTPS, many websites still have yet to switch over. Depending on the site, this can be quite a task, but now is the time to do it if you haven't already, before the July update rolls around. So how do you switch your HTTP site over? Reach out to Right Idea Media and Creative and we'll install an SSL Certificate on your business website to encrypt user information and increase security.
If you're hoping to stay on the first page of relevant search results, you have to make sure your website is compliant with Google's changes. If you have questions, we're here to help - drop us a line anytime! Reach out by phone at 712-366-4292 or email us at contact@rightideacreative.com.