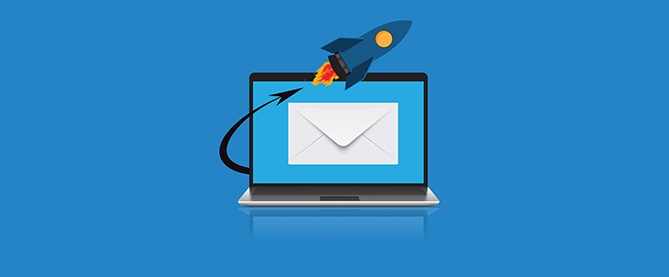 The bottom line of any business is to be profitable. A key ingredient to making money is attracting and retaining customers. Gone are the days that physical mailings, commercials, and newspaper ads are the most reliable sources of bringing new customers to your business. All are viable options, but the attention grabbing techniques must be adapted to the modern day consumer. Consumers that are focused on technology, social media, and constant movement.
One approach that may be slightly overlooked, is Email Marketing. Email marketing, in its most basic form, is directly marketing a commercial message to a group of people using email. It is a simple way to get your business' message across and is arguably the most profitable means of marketing; the ultimate business goal. Need more convincing? Here are the Top 5 Advantages of Email Marketing:
Mobility
Emails, up until the past few years, had been a form of communication that reached consumers while at home or work; it wasn't able to reach them in between those places. Now, emails are able to reach consumers wherever they are. Immobile desktops are being traded for the ever-mobile laptops and smartphones. That means the marketing done through email has the ability to reach consumers virtually anywhere. The ability to continuously market to consumers via the mobile device is an unmatchable advantage to email marketing.
It also means that the advertisements can be viewed on the consumer's time. They may not want to know the best deals while at work but once they clock out, it's shopping time.
Traceability & Reachability
Email marketing as a technology medium creates the capability to track and trace information. A business can view all activity associated with a sent email: which emails got opened, where consumers clicked, those who may have unsubscribed, etc. Email marketing can aid a business in reporting solid numbers to whether or not a campaign is working.
Email marketing also lends its hand to allowing information to spread far and quickly. In almost no other form of marketing can a consumer instantly share and send the information received just moments prior. Information can be shared with family, friends, and co-workers whether they are next to you in a cubicle or across the globe. The customer base you originally sent the message to grows extensively as information is forwarded and replied. With a few clicks of the mouse or tap of the finger, the awesome sale your company is having will be passed from consumer to consumer.
Utilizes Impulsive Behavior
In most email marketing campaigns, there is a call to action. An image, a link, a question for the consumer to react. The call to action should reel in the customer so much so that they follow through and make the purchase, or make a move towards purchase such as ask for information. Email marketing allows these offers, deals, and links to be at the fingertips of your consumers. And when they are so easily accessible, it's hard to say no to such a great offer. The impulsive buying behavior of consumers is happening all the time, they just need the right email to be put in front of their eyes.
Personalized Messages
Email marketing creates an opportunity for businesses to segment its customers and users, then personalize virtually every message sent. However, the personalization must go beyond inserting the customer's name. Businesses must know their customers and clients. Sending an email targeted at Joe who will be needing a grease job and oil change in the next couple months, reminding him of your services, is a simple way to get your business back on Joe's radar. Jupiter Research found that relevant emails drive 18 times more revenue than broadcast emails. Email marketing creates the convenience of personalization which turns into customers.
Saves Resources & Great ROI
Finally and maybe most importantly, email marketing will save your company time, effort, and money. There is not the necessary time to design, get approved, printed, and mailed out also messages are sent in real time, with quick responses. Email marketing allows your business to send personalized messages at a very low cost and with a fantastic ROI. There is no marketing channel in which you'll spend less to get greater returns on your investment than email marketing. In 2014, email marketing was cited as the most effective digital marketing channel for customer retention in the United States (eMarketer).
Email marketing is in its prime. The advantages are unmatched. If your business is not currently using email marketing, it would be a smart business decision to put that in the mix of your marketing tools.