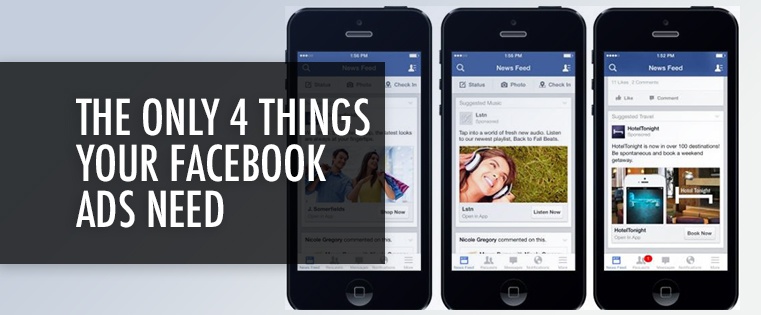 Photo by Bablu bit
Facebook is one of the most visited social platforms for consumers today — with 1.79 billion users — 79% of adults have accounts. That means most, if not all, the consumers you're trying to reach can be found on Facebook. Facebook presents unrivaled advertising reach and targetability opportunities for your business.
With so many reachable users on Facebook, the ads are a worthwhile investment. Producing a successful Facebook ad boils down to these four components:
It's visual

It's relevant

It has an enticing value proposition

It has a clear call-to-action
In order to fully grasp each of the components, let's go through an example of each of the 8 types of Facebook ads and analyze them.
Facebook Video Ad
Video ads are on the rise in popularity. It's a chance to place a commercial size video in front of a targeted audience. It's useful because they are able to reach the consumers that don't watch TV as well as serve as frequency builders for consumers that see your ads on TV.
Here is an example from Rue La La.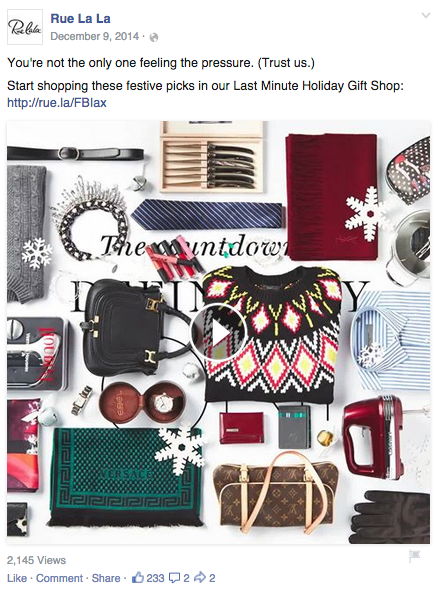 Why is this ad effective?
It's visual

— It's a video so we know there are more visuals to be seen than this frame, but they've chosen a frame that conveys what the ad will be about and it's very visually pleasing to look at.

It's relevant

— I have been searching for holiday gifts for the last couple weeks.

It has an enticing value proposition

— It's visually obvious they have a wide selection of products: men's and women's clothing items, kitchen utensils and appliances, to accessories and makeup. Talk about easy shopping when I could get everything I need from one place.
It has a clear call-to-action — Yes, they say "Start shopping" with a link to their site.
The Photo Ad
The is one of the simplest and most popular forms of Facebook advertisement and is easily adapted to various audiences. It can be a single image or a collage of images, as long as they're effective.
Love Your Melon does a great job: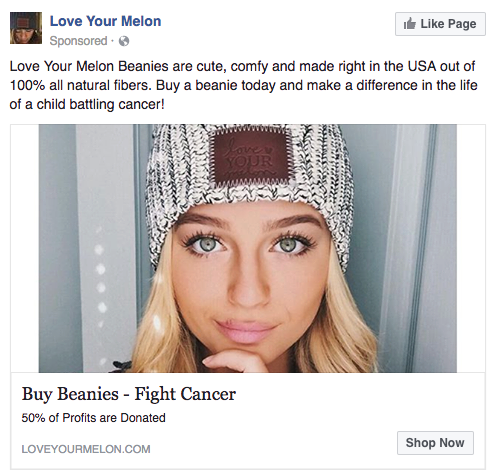 Here's why it works:
It's visual

— It's a simple image with a preview of a hat. Not filled with distractions, just straight to the point of look at this hat. Also, they chose a simple hat color, makes me wonder what other colors are available.

It's relevant

— I've been on the look for new winter gear. It's close to winter and I love having a comfy, go-to beanie!

It has an enticing value proposition

— I know when I buy a hat I'm helping a great cause, children battling cancer. I know that 50% of profits are donated when I make a purchase; plus they're cute! I can look good and feel good about this purchase.
It has a clear call-to-action — The 'Shop Now' button is quick and painless.
The Carousel Ad
A.k.a., the multi-product ad. These ads allow a business to showcase multiple different products and/or services within a single ad.
I was recently served this ad from Gordmans: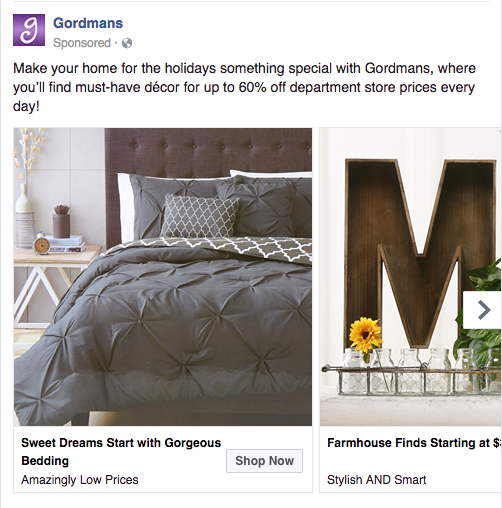 This ad works, because:
It's visual

— The bed and home accents are modern, yet warm. They are both things I'd like to have in my home. And maybe because it's Friday, but that bed looks very comfy!

It's relevant

— I have been in the process of moving, looking for new furniture, decorations, and home goods.

It has an enticing value proposition

— I saw '60% off', then I saw that comfy bed, then I wanted to scroll right and see what other home goods I could get for 60% off.
It has a clear call-to-action — There are 'Show Now' buttons for each product, and each link leads to the individual products.
Local Ad
Local ads work if your business has a physical location you want to bring foot traffic to. An event or sale going on is a great way to target people within a short distance of your store and encourage them to come on up and see what's going on.
Cedar Omaha (a local cocktail lounge) is celebrating their first year of business.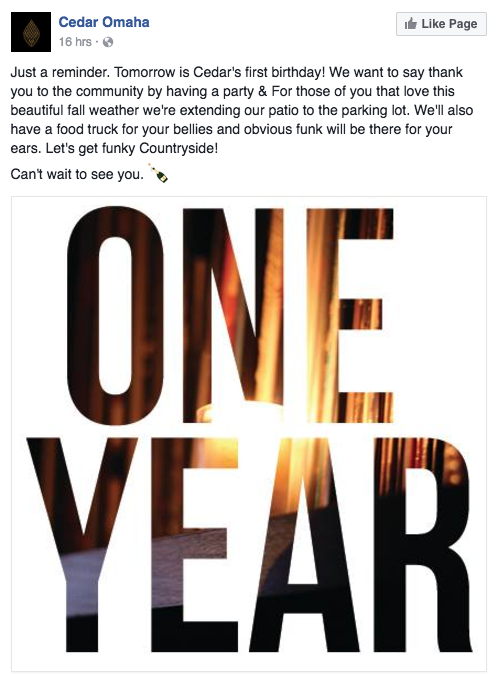 This ad caught my eye because:
It's visual

— I scrolled passed the image, then went back because I couldn't quickly figure out what it was that I saw. I knew I had read "One Year" but what was behind it? I had to study it for a few seconds to see the words superimposed on the candle image. Always a good tactic to make your readers brains come to a halt and have to scroll back.

It's relevant

— Facebook is great at showing local events. It was near me and fun Friday night plans.

It has an enticing value proposition

— It's a party with drinks, food trucks, and music; what more could I want?
It has a clear call-to-action — 'Can't wait to see you' means come to our party because it'll be great!
Offer Ad
An offer ad takes out the middleman of going to a website to make the purchase. It's a discount on a product or service that can be redeemed on Facebook. The buyer's journey is only one click rather than a few clicks; the quicker consumers get to the purchase page, the more likely they are to buy.
Here's an example from Jasper's Market: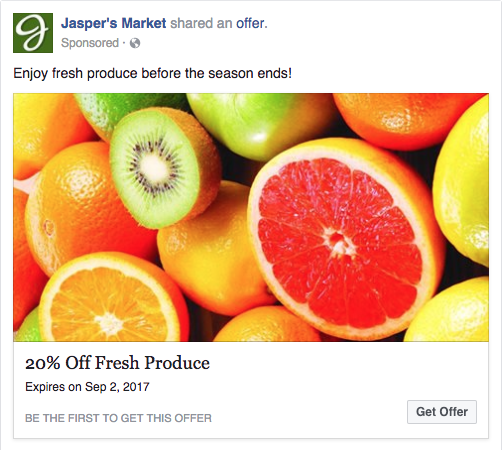 We immediately know what the offer is, when it expires, and how to get it.
It's great because:
It's visual

— They're advertising fresh produce and the image looks like fresh produce, delicious and ready to be eaten!

It's relevant

— I had been searching for produce deals across the city.

It has an enticing value proposition

— 20% off is a great deal, especially if it applies to all fresh produce!
It has a clear call-to-action — The 'Get Offer' is clear and easy.
Event Ad
Event ads are a great way to promote events for your business. Typically the consumers that click are directed to the ticket purchase page or RSVP page or wherever leads them to the next step in getting guests there.
There is an event happening locally, NebrasKon, and Ugly Duck has hopped on the train for easy event promotion.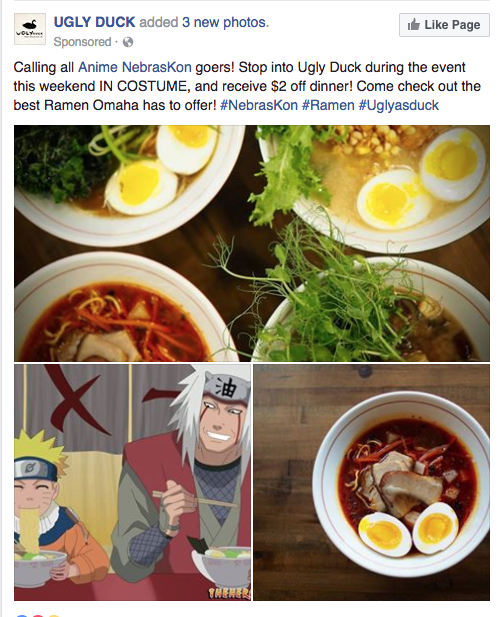 Why is this a good one?
It's visual

— It displays their delicious food along with an image that connects to their audience at NebrasKon.

It's relevant

— On that hunt for things to do over the weekend, Ugly Duck gave me an option.

It has an enticing value proposition

— Since almost everyone will be in costume, all they have to do is bring their already-costume-clad selves to Ugly Duck, they'll instantly save money.
It has a clear call-to-action — Come to Ugly Duck and save $2 if you're dressed up.

Retargeting Ad
Retargeting ads are ads that follow you across the internet. You search for something on one site and an ad follows you to the next couple pages you browse.
I've recently been on the hunt for a new phone case, and the retargeted ads on Facebook have helped me continue this search.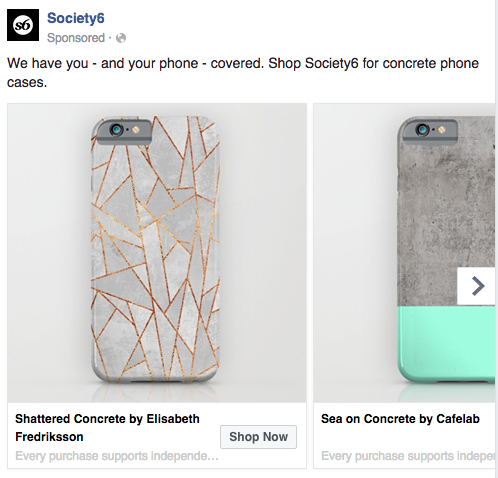 Why is this working?
It's visual

— They chose the carousel option, which was a great choice. I can check out the different cases they have and click right to one if I like it! The cases are presented in a simple way, nothing too forceful.

It's relevant

— I was searching for phone cases and Facebook showed me more!

It has an enticing value proposition

— Although there aren't any prices shown, I want to protect my phone while still looking good and these cases provide that.
It has a clear call-to-action — The 'Shop Now' buttons are on all the different cases.
Boosted Post
Boosted posts are organic posts that later become ads. There are far less limitations on text amount, image size, etc. for boosted posts.
Below is an example of a boosted event post: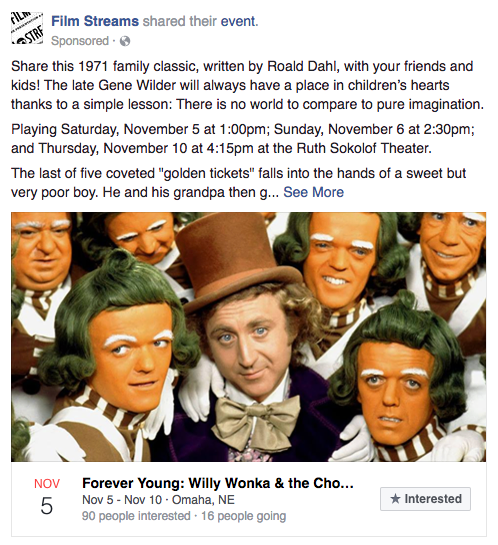 This is why it works:
It's visual

— Easily recognizable photo, I know it's Willy Wonka and there must be something connected to the movie happening. A sense of nostalgia is what pulls me in.

It's relevant

— During the same search for something to do, I came across this Film Streams post, boosted to reach people like me.

It has an enticing value proposition

— This is a chance for parents, adults, and kids alike to enjoy a movie together. It also gives me all the details I need to know just by looking at this post.
It has a clear call-to-action — They are asking if you're interested in the event and would like to receive more information. The 'Interested' button is simple to click and puts the clicker on a "be notified of more information" list.
Whether your business is big or small, Facebook advertising essentials are the same. An ad is only as good as its visuals. Do it right and you'll see the customers clicking!
If you need great visual Facebook ads, we're your crew. Start your creative process with us today.