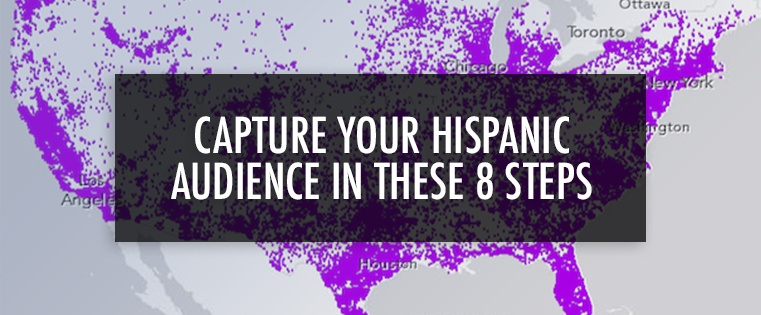 Is your business looking for a new marketing avenue or audience? Tap into the U.S. Hispanic market.
Hispanics are the fastest growing ethnic segment in the United States, expected to grow 163 percent from 2010 to 2050, making up 30 percent of the population. This is seen as one of the last significant growth opportunities in the U.S. Latinos are no longer a sub-segment of the economy, but a prominent player in all aspects of American life.

The U.S. Hispanic audience is a huge opportunity for businesses — an opportunity you should be going after it! If you're having trouble with the approach, here are the first steps to take when beginning to target the U.S. Hispanic population.
Bring your 'A' game.

Targeting the Hispanic market takes more than translating your English ads to Spanish. Do your research, outline, plan, and implement a full-scale strategy. This is a huge growth opportunity and that requires diligent work in preparation, especially because there are many language and cultural cues to keep in mind. When building a strategy always remember: test, refine, prove, and repeat!

Bring your 'A' team.

Addressing the Hispanic culture is not a simple task and success takes time. If you don't have the personnel to devote, try partnering with Hispanic leaders and businesses to get a respect, reliable view of the culture. Familiarity can help build trust for your brand, and a strong relationships with Hispanic business people can aid in reaching your full marketing potential with the Hispanic market both online and offline.

Focus local.

The term "Hispanic" encompasses a wide range of nationalities and they are not homogeneous. Focusing local allows you to address the various needs of each Hispanic community, varying by ethnicity, religion, region, and age. The winning approach will be highly-targeted and micro-localized.

Tackle the language barrier.

Today's modern Latino is ambicultural, their ability to move seamlessly between the English and Spanish includes the ability to effortlessly embrace two distinct cultures. The simplest way to cross the language barrier is to speak their culture; be culturally relevant.

Be where they are.

Video, mobile, and social media.

On average

in the U.S., 72 percent of adults use social media, compared to 80 percent of Hispanic adults. The Hispanic audience, on average, spends more than eight hours watching online video each month; that's 90 minutes longer than the

U.S. average

. There is also a large presence on mobile, smartphones are becoming the "first screen" for many in the U.S.: 10 million Hispanics watch mobile video for an average of six hours longer than non-Hispanics and Hispanics are 17 percent more likely than non-Hispanics to access the internet on their phone more than a computer.
Speak to the culture.

There is not a blanket statement that can describe the whole U.S. Hispanic population, as I've said it's a very diverse group. However, traditionally, Hispanic communities are tightknit and family-led. That's a good place to start when determining your message. But it must be tweaked depending on the group.

Provide options.

As I've said, a vast majority of the Hispanic target is very acculturated — they speak English and Spanish and consume media in both. The endless possibilities of digital marketing allow you to present options and the consumer can choose the language they prefer.

Invest, invest, invest.

For many companies, approaching the Hispanic market is a daunting task, but if you look at the growth potential alone, that ought to be enough to help you get over the fear. There are

currently

around 52 million Hispanics in the U.S. and that's expected to rise to about 132.8 million — a growth of 163 percent over the next 40 years. Set aside budget specifically for attracting Hispanic audiences. You can't afford

not

to put your money into targeting the fastest growing market in the U.S.
Takeaways
In order to truly be successful, learn to embrace the different cultures and values of Hispanic communities within the U.S. The Hispanic audience will only grow in cultural and economic prominence in the coming years. Hispanics are a constantly connected culture, which makes them influential — spreading ideas, culture, and content.

If you're still having trouble with how to target the U.S. Hispanic audience, we are your one-stop-shop — TV, radio, and digital ads for your Hispanic audience are right up our alley. Contact us today and start tapping into the largest growing market in the U.S.