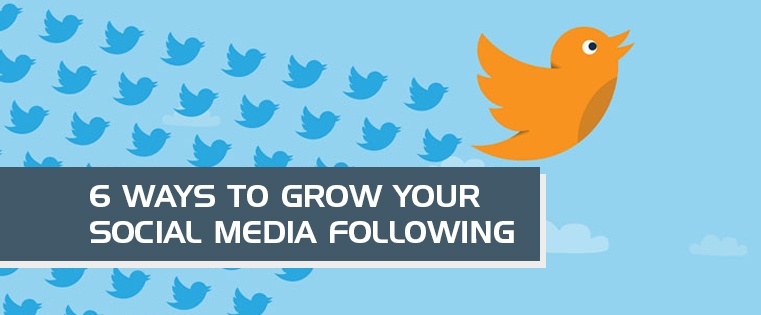 Social media is quite the game and it's something that all businesses should be playing. If your social media efforts are currently benched, it's time to get those muscles stretched and back into the game! The key is to be present with the right information for the right people to see.
As a business working on marketing efforts, your biggest ally is your database of current contacts. Social media provides an excellent opportunity to expand that collection of contacts! Growing your followers can be easy if your company is willing and able to put in the time and effort. Here are six ways to grow your social media following!
1. Prioritize social networks
If you are just starting off your social media presence or still relatively new to the game, growing your followers can be a very overwhelming task. There are so many platforms, guidelines, and pointers to keep in mind; your best choice will be to prioritize and choose social networks your target audience is likely to be. When in doubt, create profiles on the top social networks (Facebook, Twitter, LinkedIn, and Instagram). Consumers are going to want to talk to, and about, you on social media. It's very important that they have the option to get in touch with you!
2. Optimize social profiles
There's no point in having a social media profile with inaccurate, incomplete information. Be sure that all your profiles are accurate, up-to-date and ready for potential customers to get information from! Best practices include:
User names that are recognizable and easily connected to the business;

All photos should be company related and appropriate;

Concise, SEO friendly business descriptions;

Trackable links that lead back to website.
A reliable, useful social media profile will gain customers and followers when you're not even trying.
3. Interact with your followers
It is well-known that social media is a place for consumers to voice their thoughts and opinions. The important part is that they like to be heard and recongized when they leave comments, posts, reviews, etc. A simple way to grow and keep followers is to interact and communicate with those who are trying to talk with you! They care enough to leave their thoughts, acknowledge that.
An added bonus to talking with your audiences across social media is that one the best ways gain more followers is through your current followers. A good relationship with current followers encourages new followers. Influencers are also important, if you start and build a relationship with influencers of your industry, they will help you gain followers as well.
4. Engaging content - focus on fun!
Getting the word out about your business and special offers you may be having is very important and useful part of social media! However, you are more likely to gain followers if you post a variety of information, especially if it's catchy. Your business should be worth following, worth the precious time of consumers. Posting a variety of content that keeps your page recent, interesting, and engaging will keep followers coming back for more.
Visuals.

Include as much visual content as possible, even if it's a simple post with an image.

Visuals are processed 60,000X faster in the brain than text.

While this may seem simple to just grab a photo, slap it with some text, and call it good; you must ensure that your images are as strong as your messages.

Funny & Delightful.

Nothing is more shareable and spreadable than funny, entertaining, brings-a-smile-to-your-face material. Industry and business related funny is a bonus, but sometimes just posting a goofy picture works wonders.

Educational.

Consumers love to look knowledgeable. A quick post or video that can make consumers feel like an expert, then allow them to show off their expertise is very effective. Your post, shared among a follower's followers extends your reach.
The 80/20 rule is one to live by. 80% of your posted content should be helpful, fun, educational. The remaining 20% can be sales oriented.
5. Publicize/promote social presence
If your business is present and rocking it on social media, promote that! Allow consumers to easily access social media from different pages on your website, your blog, storefront sign, print ads, business cards, email marketing messages, etc. Make it easy and accessible for customers to follow or contact your social media. And don't be afraid to cross-promote across social media accounts!
6. Social sharing buttons on ALL content
The content you post should include social sharing buttons. Email subscribers, blog readers, website visitors, and anyone else viewing your content should be able to one-click and share what they're seeing. Social sharing buttons should be on all your content: Blogs, ebooks, email messages, newsletters, landing pages, etc. Where your content is, social sharing buttons should also be.
Recap
This social media business is a game that takes patience, creativity, and consistent effort. A presence is step one and building that presence is all the rest of the steps! Having a few followers is exciting, but the more the merrier! And your business can always use more friends!
If your business has decided to embrace the social media excitement, we're glad to hear it. Even if you use only the top social networks, there is tons to do and keep up with, especially if your company has a lot of consumer interaction! Our Spotlight Platform services allow you to worry about day-to-day business rather than what's happening online! Contact us for more information! We can manage your online reviews, too!
Other Sources: