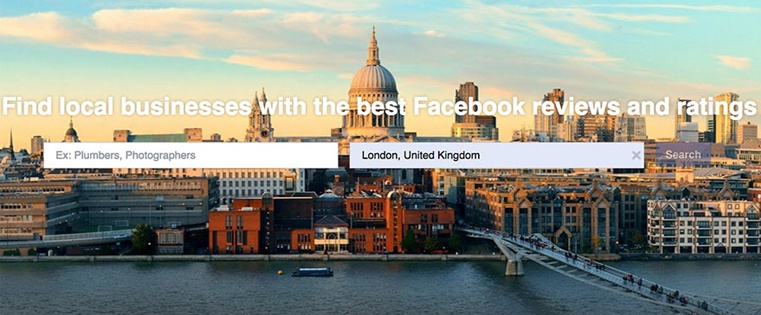 Does your company have a local business page on Facebook? Does it put your best foot forward for customers to easily find you? If one or both of those answers was "no," the good news is you have time to update the situation without falling too far behind competitors. Facebook has recently launched Facebook Professional Services, which will allow businesses to be found more easily along with a quick description, ratings, and reviews. Customers can search and find the best rated local companies for all of their business needs.
First, let's look into what Facebook uses to formulate the list of businesses and the order they appear. Below are a few of the main elements, others may be involved as well.
Location of the business, one of the most important elements

Keyword matches within the business page, description, and category

The average rating of the business

The number of ratings the business has received

How recent the latest review is

The number of check-ins
So what can your company do to be the top of the list when customers search? Here are a few tips to boost visibility and help your company be found.
Fill out your Facebook business page
What may seem like an obvious task, is one that may be overlooked. The About You section under the Page Info tab is what you're looking at. It is best to fill out all sections, but the most important bits to have complete are: the address of your business, the hours of operation, a short description of your business, and your phone number. This is the information customers see first when searching. If this information is not filled in, chances are that customers will move onto the next business. This also means that your business should remain up-to-date on this information. If your business hours change, update all the platforms that have that information.
Choose a category and subcategories
Part of filling in your business information includes defining your business within a category and subcategories. Take the mindset of potential customers, if they were searching for your business what would be the search term. Try searching a few terms and see where your competitors come up. Then fill out your categories and subcategories that place your business in the best competitive position and easily found by consumers.
Encourage action
As I discussed earlier, the order of businesses within each search is influenced by consumers and the action they take. The higher frequency and number of reviews your business has, the higher the ranking on a search. Sometimes customers take it upon themselves to write a review, check-in somewhere, etc. but most of the time it is a result of the business requesting action or making the action process very simple.
Call to action button. Depending on your business' products and/or services, you will want to have different call to action buttons. You can also personalize these based on the consumer's device: desktop, Apple device, or Android device.

Message button. A simple button to contact your company through Facebook is much more convenient than having to take extra steps to go to the website and make contact through there. This can be especially helpful for possible customer complaints. A private message is much better than a public post.

Check-ins, ratings, reviews. These can only be done by the customer, but chances are they are willing to do so. A small request for customer feedback is an easy task with great returns. A reminder on the page or a brief follow-up will do the trick!
Enable Facebook Bluetooth Beacon
Facebook Bluetooth Beacon allows your business to send custom messages to consumers at your business. You can add a welcome note and photo. Then when a customer opens Facebook while at your business, they'll see Place Tips, such as popular menu items, photos of friends at your business, special offers, and more. The is a simple way to engage your in-house customers.
Facebook Professional Services is slowly picking up speed within the business community. Yelp and Google have strongholds on the customer review platforms, but as Facebook irons out all the wrinkles, it may give the others a run for their money. The best decision for your business is to let the big guys argue over which platform is best, while your company is up-to-date and covered on all possible platforms. Customer review platforms require constant upkeep and fuel, stay on top of this task and your business will be top of the list!
Other Sources:
http://www.socialmediaexaminer.com/facebook-professional-services-how-your-local-business-can-rank/
http://www.inc.com/peter-roesler/facebook-s-new-professional-services-feature-may-challenge-yelp-and-google.html
http://margari.net/digitalmarketing/facebook-professional-services-local-search/#.Vt8WwpMrKi5
Image:
https://b2bm.s3.amazonaws.com/styles/default_image/s3/facebook-launches-desktop-only-professional-services.jpg?itok=Hyp1HGFy