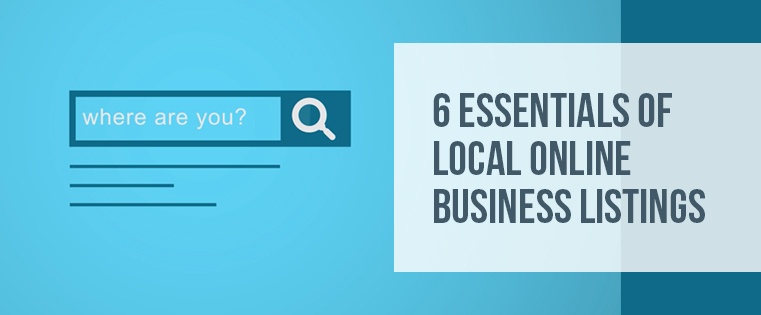 Do you own or manage a local business that just doesn't seem to be getting the web traffic you anticipated? This could all be due to your business listing — consistency, location, categories, and more. We are here to help your business be seen online and direct your customers to right place!
Below are six local business listing attributes that are essential to your business's online presence.
1. Your Business Title
It seems silly, but your business title is key in local listings and ranking well with local search engines. What does that mean exactly? A business title that is spelled accurately and consistently across all data sources helps your business gain trust from search engines — that the business does exist at the location they are claiming.
Search engines are smart, but they take things very literally. If your business title is listed as "Gary's Gourmet Goodies" on one site and "Gary's Goodies" on another, search engines will most likely view these as two separate businesses when it indexes each. Pick one title for your business and stick to it; any directories you join, online or in print, should be consistent. Google's Quality Guidelines for Local Businesses states, your business title may be differ from your real-world title, in order to help consumers locate your business, but it should still reflect your business's real-world title. A few examples, "Starbucks West End" or "Gary's Dessert Goodies".
New businesses, especially, benefit from using descriptors in the online business title, so consumers can immediately learn what your business can do for them and/or where your business is located. For example, "Gary's Goodies Seattle" is more informative than "Gary's."
2. Links and Citations
Search engines like Google, Bing, Yahoo!, and others aren't "told" about your business, but rather "find out" about your business. The two main ways it is done is through visiting links that point to your site and the tracking sites they appear on; or tracking citations* of your business and which sites these citations appear. Then these two factors are considered when ranking your business in search. Everything else equal, the business with the most links and citations from high-quality websites in your area will likely have the highest rank.
*Citations are mentions of your business name on web pages outside your own; they must include your address, phone number, or both. For example, a review platform such as Yelp, Google My Business, or the Better Business Bureau that mention your business will affect how search engines index your business information.
3. Categories
These allow you to distinguish the nature of your business — usually choosing between two and six options. This is important when consumers are simply searching for "desserts" or "candy shop" rather than a specific business. Search engines use category information when choosing which businesses to display for those general searches. If your business is uncategorized or wrongly categorized, your business will not appear in searches for those keywords.
If you need category help, Moz Local provides an extensive list of local business listing categories here.
4. Reviews and Ratings
Customers today rely heavily on reviews and ratings for a business, product, and/or service. Reviews can be the difference between a passerby and a life-long customer. We know wihtout a doubt that reviews and ratings influence consumers, and Google has caught on to this too. Your reviews and ratings now directly affect where you rank in Google's new knowledge cards (see example in photo below).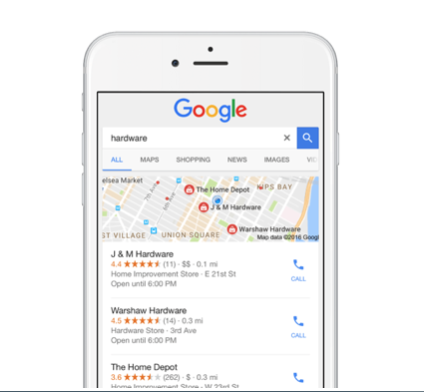 Every review platform has their own set of guidelines, but a best practice to follow is to respond to all reviews, especially the negative reviews, in a timely manner.
5. Photos and Videos
Consumers are very visual people. They want a pleasant experience and that includes a visually pleasant experience — both images and videos. Visuals are a great way to showcase your business in a simple, exciting way: your products, projects, team outings, the office, whatever it may be. Catchy visuals can grab attention well before words.
Again, photos and videos don't directly affect search results rankings, but a business with more and/or intriguing photos may get the click through over the company with bland photos or none at all.
6. Social Factors
Local SEO is heavily influenced by social components now more than ever. Consumers love social spaces — your business should be where your customers spend their time online. Especially places that allow you to interact with customers. The direct influence on search engine rankings is constantly changing with every new algorithm update, however, if social media is what your customers prefer, then your business should follow suit.
Other Important Factors
Be sure to list complete contact information on your website in a way that search engines can read — indexable text that is not embedded in an image, Flash, or other formats search engines can't get passed.

The physical location of your business can influence rank — your proximity to other similar businesses and your proximity to the individual searching for your business or business category.

Consistency, consistency, consistency. Consistent listings means trust from search engines which leads to high search rankings.
Your business has been doing well, but you're looking for more online traffic. With these six essentials in mind, your business's online traffic should increase in no time! Once your business listing is accurate and consistent across the web, you'll appear more credible online prospective customers will find you much easier.