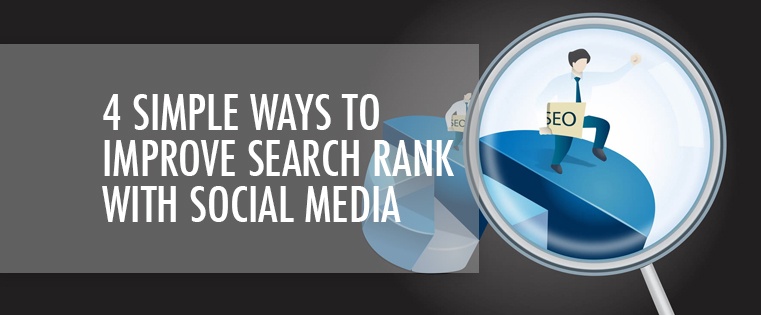 If there's one thing every business wants, it's to be the first company listed on Google, Bing, Yahoo!, and other search engines when a consumer is searching with a key industry search term. One of the easiest ways to boost your search rank is by creating great, shareable content. Improved search rank boosts your SEO and increases relevancy within social media searches, such as Facebook.
Search engines like Google, Bing, and Yahoo! are all about efficiency and relevancy. They want to serve each consumer the best content, information, links, pages, etc. that are related to specific likes, interests, locations, etc. One of the biggest factors in determining "great" content is looking at the social shares — how much has a post been shared across social media platforms? How popular is it among readers? Higher number of shares communicates to the search engines the importance and value of said content to the consumer; consumers only share content that they view as valuable.

Your company should continuously be working to improve its search rank. If you don't know where to start, the four social media practices below can boost your social rank immensely..
1. Create tantalizing content
Your content needs to be engaging, enticing, and sharable. Whether it's a blog post, a video, a crazy picture, a joke, a pun, or a fact of life, put things out there that your readers enjoy and want to let everyone else know about.

A great video example is the Chewbacca Mask Lady. It was unintentionally viral, but the result was a hilarious video everyone has seen!
A brand that continuously does well on social media is Denny's. "America's Diner" always has something funny and witty to say.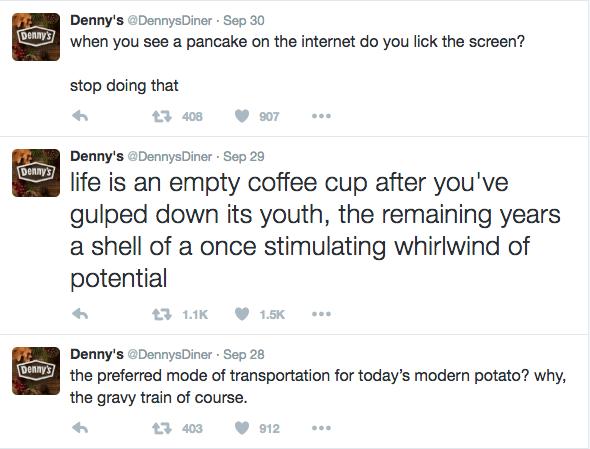 2. Use your keywords in posts, profile, etc.
When writing a social post, your aim should be to include at least one or two of those very important SEO keywords in the post, while still delivering fresh content. The keywords you have used within your website can be linked with social media accounts as well. Keywords searched to find your business can lead to both your website and social media accounts, providing consumers with everything they could have hoped for!
If you're not sure what SEO keywords you should be using for your business, it's vital that you find out. Without these keywords, there will be virtually no traffic to your website. In order to determine what keywords people are searching for your business, you should head to a research source below, then incorporate the keywords you found into posts and your website.
Microsoft Bing Ads Intelligence
Wordtracker's Free Basic Keyword Demand
3. Encourage social sharing
Content that is exciting and well-written encourages readers to share it. However, a little nudge to share never hurt. Within a social media account, shares are easy. But outside of social accounts, such as a blog, you'll need to include social sharing buttons. It should be 1-click easy for a reader to share your content. Include social share buttons to major sites and those relevant to your industry, if possible. Tell people what you want them to do with the content you've given them.

4. Grow your followers
As trivial as it may seem, your number of followers has an affect on your social rank, for two reasons. More followers means more people to share your content, see #3, but also, your number of followers demonstrates your business' authenticity. If you've taken the time to build a community, a following, that is recognized and rewarded by search engines, boosting your search rank. Plus, more followers means more opportunities for readers to interact with your social sites, then click-through to visit your website.
Your social media plan should be a large part of the overall marketing plan. Social media content should be adding to efforts of SEO and increasing the SEM numbers, your reach, popularity, brand identity, and influence online. Entertaining, great content is shared and thus increases your social rank in search engines and social platforms alike!
If this seems like an overwhelming task, have no fear! Your company many be new to this search rank, SEO, social rank, and content creation segment of marketing. We have the perfect solution -- our Snapshot Report. You can see exactly how your business stacks up - social performance, website performance, online reviews, and more!