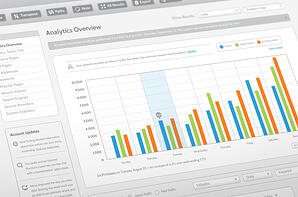 For any business the goal is to generate authentic leads from website visitors. Whether it's an e-mail, phone call, or a walk in. In this digital age, it's a good bet that most leads have viewed your site at least once . One way to estimate to estimate your conversion rate is by dividing your monthly leads by the amount of unique visitors to your website.
Here are 4 Google Analytic aspects including unique visitors, that are beneficial to understanding your website traffic, the effectiveness of an advertising campaign, and your overall lead conversion.
1. Bounce Rate
Bounce rate is the percentage of visitors to a particular website who navigate away from the site after viewing only one page. A high bounce rate normally points to a sign that a visitor does not see the information they are looking for and exits the site. It is also possible that they accidentally came to your website and quickly exited. The ultimate goal is to have those that visit the main page continue to click and look at other content. Aim for a bounce rate of about 30%. At times it will be higher and lower but this is a good number to set as your goal.
2. Unique Visitors
A unique visitor is a statistic describing a unit of traffic to a website, counting each visitor only once in the time frame of the report. This statistic is a measure of a site's true audience size, equivalent to the term "Reach" used in other media. It goes without saying that having new and unique visitors to the site is important to it's success. This goes hand in hand with the "Returning Visitors" analytic. The goal is to always have new visitors but it is also very important that they continue to return and view your content.
3. Page View Rankings
This allows you to dive into individual page statistics and know which website pages are generating the most views. This information can be beneficial in many ways. It helps you understand which website pages are the most popular and which are receiving very little attention. It is also a good way to measure the effectiveness of your current traditional advertising campaigns by knowing if relative content is being viewed.
4. Traffic Sources
Where are your website visitors coming from? Are you pushing your website out through social media, blogs, and other websites such as cars.com and autotrader.com? Do you know how effective those efforts are? Traffic source analytics allow you to see where all of your website traffic is coming from. In addition, it shows how your digital advertising stacks up to other traffic sources.
The information within Google Analytics can be overwhelming. There is a plethora of useful data and statistics that can be beneficial in understanding your current website traffic performance. Don't be afraid to click on the many tabs available, you never know what useful information you may discover.