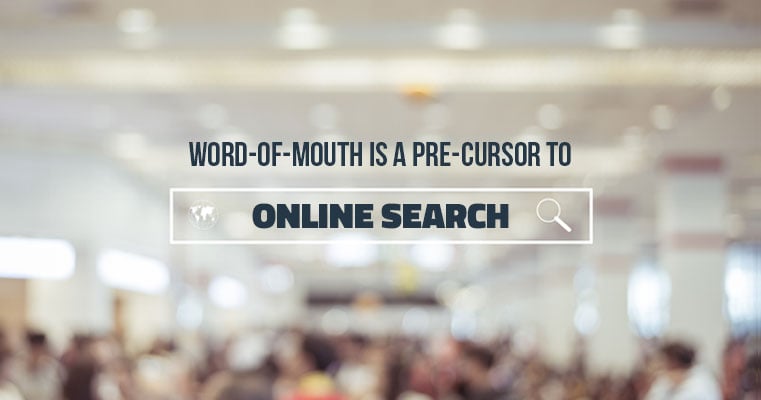 For most businesses, word-of-mouth coverage plays an important role in marketing strategies. But for your potential customer, a word of recommendation from a family member or friend isn't the straight path to your business you might imagine it to be.
More people than ever are likely to search for your business online for reviews and nearby locations, even after being recommended that business organically. If you're using word of mouth as an excuse to skip investing in your digital presence, you should be aware that you may be losing out on potential sales.
Online Presence Matters
90% of consumers say their buying decisions are influenced by online reviews (source). Even when they receive glowing recommendations from others, potential clients are still likely to Google your business prior to their visit. In addition to your reviews, the accuracy of your online listings are equally important. If the wrong address or phone number is listed for your business online, that could easily lead to lost sales. Have you checked if your listings are accurate?
Word of Mouth is Inconsistent
While word of mouth is one of the more successful ways of generating leads and requires no direct advertising dollars, it's also inconsistent. No matter what quality of service you provide, there's just no way to be sure if a customer will give a recommendation to others, or even if they do, whether there will be any follow-through from the potential consumer. Having consistent online listings helps this matter - those searching for your services will always be able to find you if your information is up-to-date.
"43%

of businesses have incorrect or inaccurate listings online."
Sheer Numbers
While word of mouth is without a doubt a significant factor in decisions, the fact is that people use Google hundreds of billions of times a month. For every customer you gain through word of mouth, there are many more out there looking for services that you can provide. Fourty-three percent of businesses have incorrect or inaccurate listings online (source). Can your business afford to be a part of that statistic?
The good news is that if you're looking to improve the accuracy of your online listings, Right Idea Media & Creative can help! Get in touch with us today!