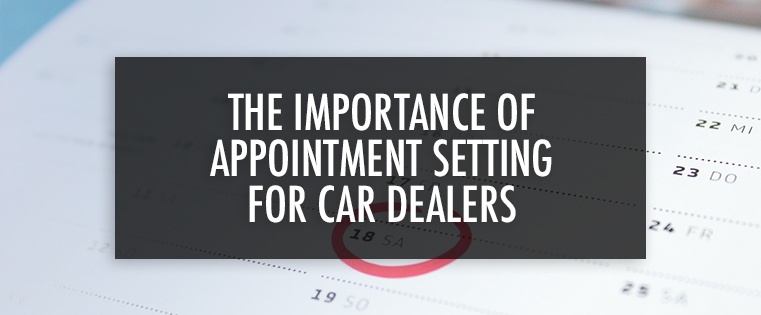 Consumers today are looking to streamline everything they do. Making a large purchase, such as a vehicle, is included in that streamlined-hopeful process. Quicker is better. What many consumers may not realize is that the car buying process can be streamlined, with appointment setting. Whether early on in the search process or the day of the purchase, setting appointments ensures that customers wants and needs will be acknowledged and met.
Why Set an Appointment?
As a salesperson, you know appointments are very helpful. But the customer may not know that an appointment is convenient for him/her as well. Customers may be on the fence about setting an appointment — they're not sure exactly when they'll be in, they're still in the early stages of searching, they want to meet the salesperson first, whatever it may be. But setting an appointment has many advantages for the customer, s/he just may need to hear of the benefits.
You are able to pull the different vehicles for the customer. Most consumers research vehicles before going to the dealership, therefore they have a few in mind they'd like to view. Setting an appointment allows you to locate and make accessible the vehicles for the customer; the most ideal way to view vehicles that the customer otherwise couldn't do. This is especially helpful on extreme weather days— rain, snow, heat, etc.

It verifies availability. Depending on the season, day, time, etc. the dealership could be packed. The vehicle buying process can be long, and even longer if a customer has to wait for the next available salesperson. The appointment verifies that someone will be available, prepared, and willing to help that customer.

It avoids the potential herd of salespeople headed for the fresh customer. Walking into a dealership can be quite the experience. As customers approach the door, they can see the swarm of salespeople gathering, just waiting for the door to open. Customers need not be afraid of this situation if they are able to open the door and say, "I have an appointment with Gerald."

It provides a better car-buying experience. The intentions of a customer that simply walks into a dealership are unknown to the salespeople. How far along is the customer in the buying process? Is this the first dealership s/he's been to? The fourth? Is s/he seriously looking or just getting a feel for the market? Qualifying has to be done for walk-in customers. However, a customer setting an appointment helps the salesperson help that customer get exactly what s/he wants. The salesperson is prepared and therefore the time spent at dealership for the customer is less.
How to Set Appointments That Will Show
Having a schedule filled with appointments is not an issue, having a schedule of appointments that actually show up, is where the problem is. Sure, a customer agrees to come in Saturday morning, but Saturday afternoon comes around and that customer still hasn't shown up.
The simple trick is to get scheduling an actual appointment is to ask for it.
Many salespeople ask "When would you like to come in?" It's a good tactic because the customer doesn't respond with a "no" or "never." However, it's a bad tactic because many customers reply with "I'll be there sometime Saturday." That is not a set appointment, it's typically an empty promise. Occasionally the customer will show, but not often.
Once again, the trick is to ask for an appointment. Fear of rejection aside, your salespeople must be specific and ask for an appointment. The worst answer they can get is a no, but salespeople are weathered when it comes to overcoming objections. If a customer calls about the Fancy-mobile you've got, establish a sense of urgency, followed by setting the appointment. "Yes, the Fancy-mobile is still available, but with the price it's listed at, it won't make it through the weekend…. I have a couple test drives available that morning, a 9:30 and 10:30. Which would work better for you?" It's a simple way to ask for an appointment while setting a specific time without going a roundabout way to the appointment question. Many customers will then pick one of those times and show up. Finally, end the call with a strong recap mentioning the specific day and time; the specific goal; and a verbal commitment by the prospect.
Dealership appointments are the most ideal situation for consumers that want everything now — information, updates, purchases, whatever it may be. Efficiency is key and appointments create efficiency. Your dealership will see huge improvements in appointment setting if you relay the importance of appointments to consumers then set hard appointments that will actually show.

Other Sources:
The Secret to Setting Appointments that Show by Ask the Manager
Set an Appointment Before You Visit the Dealership by Laura Madison
The Secret to Setting Appointments that Show by Dealers United