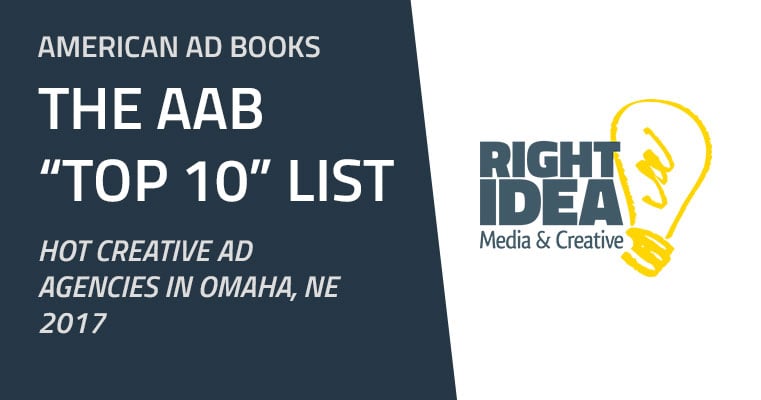 Right Idea Media & Creative was announced as one of the Top 10 of Omaha's Hot Creative Ad Agencies of 2017 yesterday.
The American Ad Books (AAB) Showcase judges were asked to submit recommendations from the Omaha metro area, including local creative directors, agency heads, client brand managers, CMOs, and CEOS. They named Right Idea Media & Creative as one of the 10 firms to keep your eyes on.
The AAB Showcase champions small firms - which is why only shops with 200 or less employees make their "Top 10" lists. Winners were announced in the AAB newsletter and receive a free entry into the AAB Showcase Awards.
The team at Right Idea Media & Creative is honored to receive the recognition and looks forward to competing in the upcoming AAB Showcase Awards in 2018.
About AAB Showcase Awards
AAB Showcase runs a crowd-sourced advertising creative competition. Like the Academy Awards, the AAB Showcase asks all the members of the marketing community, both agency and client, to help select their winners. They sponsor 10 creative categories over 10 months, each category judged online for 1 month. Over 1,400 members of the marketing, advertising, design and web industry in the US are currently involved.
About Right Idea Media & Creative
Founded in 1999, Right Idea Media & Creative is a full-service marketing and advertising firm serving 100+ B2B and B2C clients throughout the United States. Our roots in television and radio advertising, coupled with our comprehensive digital expertise, give us the insight to deliver impactful and cohesive multi-channel campaigns. Our proficiency has the power to grow our client's market share.
Media Contact Information:
Amanda Logan
Agency Marketing Manager
+1 712 366 4292 ext. 100
amanda.logan@rightideacreative.com