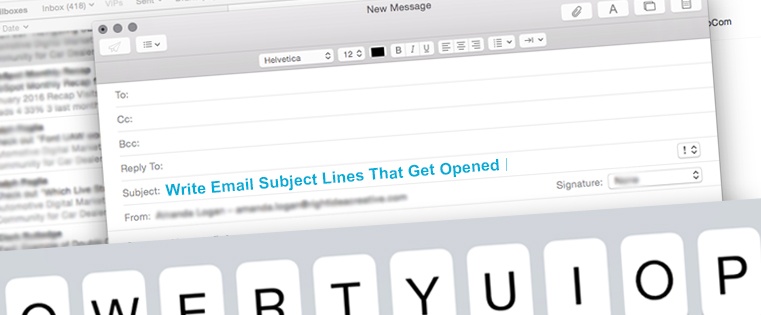 **Drumroll please** the secret to writing the perfect email subject line is…there is no secret. Writing the subject line of emails that consistently get opened is not an easy task. In many cases, most of the effort, thought, and consideration is put into the actual email then the subject line is slapped on last minute and sent off. You've spent time perfecting this email, but it probably won't get opened because it's lumped with all the other uninteresting subject lines that are now in the trash.
So how do you connect with your subscribers and pull them into your email? Once again, there is not a guaranteed answer. But sticking to these few approaches may help your chances of success.
Be simple and concise.
No one wants to read a subject line that is just as long as the email. Also, eventually the subject line cuts off and you begin to lose meaning and attent…. Some companies believe cutting off the subject creates interest in the consumer but more often than not, the consumer is not impressed and the email gets deleted. Keep your subjects short, sweet, and to the point. If you make readers work hard to read and understand the subject, you'll lose them; time is an asset they don't want to lose. "Sleek, New Porsche."
Personalize, when possible.
Any chance you have to personalize your subjects to the recipients will increase open rate and click-through-rate, guaranteed. Rather than saying "Service Specials for All of Our Customers" personalize it to "Jim, Save on Your Upcoming Tire Rotation!" Jim sees he is recognized as an individual customer and the sales options he receives are specific to him.

Be funny, clever*.
A simple way to pull the readers in is to make them take a double look and chuckle. Breaking through all the noise of emails offering "The BEST Deal of the Year!!" with a clever line is sure to lead to an open. "99 Problems But a Broken Car Ain't One!" Chances of getting opened increase because the consumer stopped to reread your subject, might as well read the email as well!
*A very important reminder: push the limits but don't overdo it. There is a fine line between witty and offensive. Know your audience.
Ask questions.
This is a chance to speak to the reader's inner dialogue. One good example is the subject of "Rough day?" Why yes, this Wednesday was more difficult than usual, what've you got to help me? Communicate and be on the same level as your readers. Ask questions they can relate to and want to learn more about. Question marks and other forms of punctuation tend to grab the reader's attention. We are used to seeing words, but punctuation makes it a less familiar sight in emails.
Have fun with your words.
Use rhymes and alliterations. For example, "Drive Your Dreams" from Toyota, a simple alliteration. Or a rhyme with "Raving Savings!" Playful wording is a simple way to catch attention and hopefully get stuck in someone's head. The flow of these phrases is different and therefore draws in attention. A tongue twister is another option. Again, just a way to change the flow of what the reader is used to seeing. "Chris crashes cars quickly, Chris needs new car."
Tease the reader.
Give the reader a taste of what will be coming, but don't give it all away. A very vague subject will not inform the reader of what is to come and the reader won't go any further. But if there is some sort of intriguing taste of what waits in your email, readers want to know more! "Sync Your Phone & Car: Transferring Music"
A few more things to keep in mind:
Your highest open rate numbers will come when you know your audience: what they do/don't like, their tone, and what sort of deals pull them in!

A call to action in the subject is a reliable plan B!

More capital letters ≠ more opens!
Writing the subject line of your email campaigns should not be rushed. The more time you spend on the subject line, the better. Each email should you should generate 5-10 options for your subject lines. Choose the best of the best! After all, the time you spend on an email is wasted when no one opens your email because the subject is boring.
Do you have any tips for getting your emails opened? We would love to hear your thoughts below!