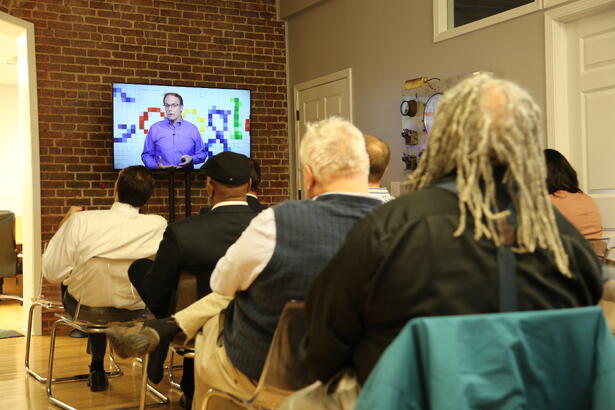 Thank you to all of our guests who made our Google Partners Connect event a success. Here's a brief recap of what was discussed during the livestream broadcast. Feel free to view the full video at the bottom of this article as well.
Technology is leveling the online playing field
97% of consumers go online to look for local products; but only 37% of U.S. small businesses have an online presence
Why don't more small businesses have a strong online presence? The answer is a lack of time, a perceived complexity of technology, and a perceived cost.
Todd Rowe, Managing Director of Global Channel Sales, suggests taking the following steps if you're considering advertising online:
Get Smart


Research what technology is available to small businesses
Take a look around online to see examples of what other companies are doing
Consider working with a Google Partner to extend your expertise or fill in any gaps for you

Get Involved

Create a strong online presence, beginning with a smart website
Drive traffic to your website by advertising online
Go mobile - Your customers will appreciate it
Utilize video - Seeing is believing
Measure the impact of your advertising dollars by utilizing Google Analytics
Use Ad Extensions to get noticed
Google AdWords Ad Extensions allow you to tell consumers more about your business without using up your 95 characters of space.

Google My Business is an excellent tool to engage with customers online
Create video and content on your Google My Business page that addresses discussions about your business on social media
27% of time spent online is spent on social media in the U.S.
Advertise when you need it most through Dynamic Ads
AdWords can be tied to any piece of business data that matters and automatically supply relevant ads based on that data.
According to mobile trends, mobile will be bigger than desktop
45% of people would rather give up their vacation than their smart phone
Mobile-friendly websites are necessary to stay competitive online

If you're at the beginning stages of building a website, design for mobile first.
Use responsive website design to make your website viewable on any device
Track Everything
With website call conversions, you'll know when a click from AdWords leads to a call to your business.
Estimated conversions help account for all conversions, even when the user goes between mobile, tablet, and desktop, or when they purchase offline.
Search Ads Lift Brand Awareness
Own the search page results with both ads and organic results - even for your brand terms
View the full-length Google Partners Connect 2015 video here: