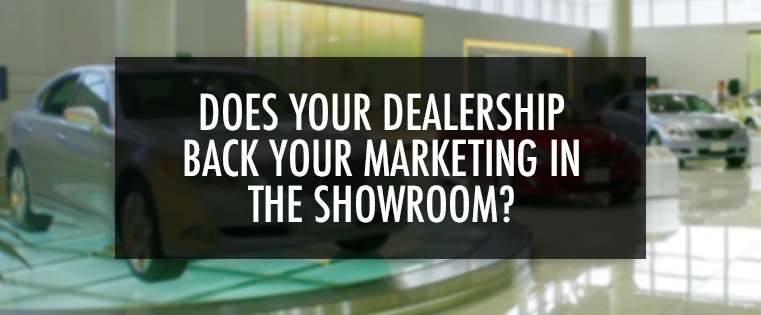 Your showroom equals your brand. What story are you telling? Consistency is key; whether you're baking a cake, perfecting your golf swing, or promoting the branding of your dealership. If you don't think consistency is important, I'd like to sway you. Thomas Smith, in 1885, wrote all about the the process consumers go through as they encounter ads for new products and services. From oblivion to distaste to asking around to saving money and finally making the purchase. The only ads that endure this complex process, and make it to the purchase step, are those that are consistent, year in and year out.
Each month your dealership puts out advertisements. Whether there's a seasonal sale going on or you've got some great vehicle prices, you produce ads. Those ads should reiterate the message of your dealership's brand. The brand your dealership aims to convey to the markets, should tell a story, be consistent, and be present in your showroom.
Tell Your Story
If you were to ask your top customers why they choose to shop with your dealership, what would they say? What part of your process is meaningful, enticing, and most important to your consumers? Ask your floor managers, service managers, salespeople, what are the best customers saying about you? Once you know why you're dealership is chosen over competitors, convey that story as your brand in all advertisements. Find your story and stick to it.


Have a Consistent Tone
In the automotive industry, consumers don't pay attention to your advertising until they're in the market for a new vehicle. It's likely they're subconsciously aware of your message, but it won't register with them until they need you. The consistent message they've been hearing from your dealership will trigger the connection to your name and your brand. Consistency builds on your brand's legacy, identity, and name.
Utilize Your Dealership and Showroom
When you think of marketing and branding, most people think of what happens outside the dealership. But you're missing opportunities inside and around the dealership. Think of your showroom and lot as the most important component of your branding efforts. Your ads convince consumers to come to your dealership, but to receive the experience they are promised relies on your people, from the front door to driving away in a new ride. Are your receptionists, salespeople, finance and service departments, and managers selling your brand as well?
And always remember to keep an eye on your online reputation. Social media plays a huge role in your branding efforts. You may think you're selling a great experience, but your reviews may say otherwise. If so, you've got some changes to make. And reviews give potential customers a peek into whether your business stays true to its word.
Whatever you want your dealership to be known for, make a huge effort to get that message circulating in front of your market. Tell a story, keep it consistent, and don't forget about how useful your people and showroom are for branding purposes.
If you're looking to up the ante on your marketing materials - no matter if they're traditional, digital, or both - RIMC can make your brand stand out.