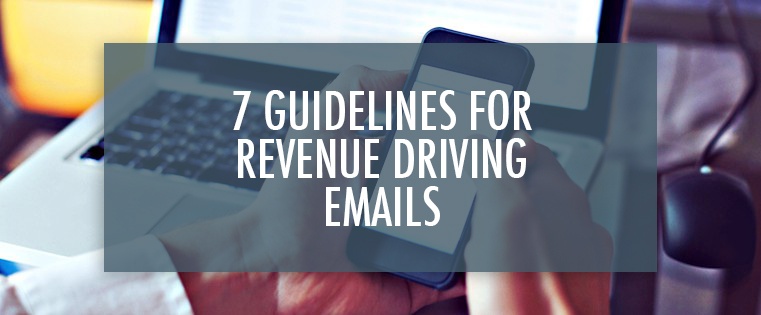 98.4% of consumers check their email at least once a day and 59.4% check it at least four times a day — consumers' email inbox is one of the best places for your business to be.

Landing in the inbox with a message to tell is the start, how you write it will determine your success. An unbelievable sale offer could be buried under ineffective, long-winded, worthless words; don't let this happen to you.
Write emails that grow your customer base, emails that get noticed, emails that transform your new business into the place everyone is talking about. Follow these 7 simple rules for killer marketing emails, every time.
1. Capture Attention and Interest
The subject of the email is the key, if it's not appealing to the reader your email won't be opened. Following the subject line is the pre-header text — this gives a little more detail about what you're sending your readers. The subject sparks interest and the pre-header text pulls readers in. The most effective subject lines are short, clear, and direct. Vague, overly long, or boring subject lines kill open rates.
Below is an example of the subject line and pre-header text.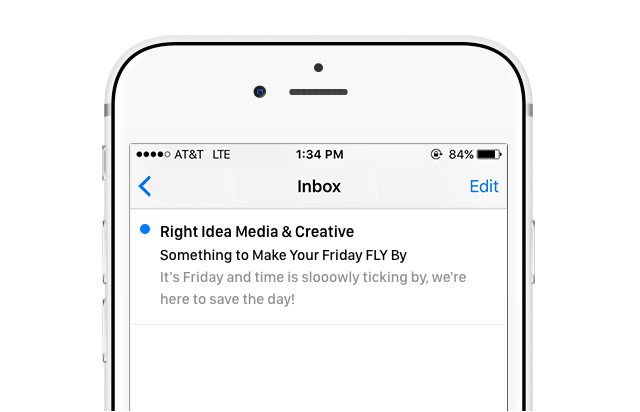 2. Personalization
Readers want to feel special. As consumers opt into your emails, they must provide basic information: their first name, email, possibly a birthday. Put that *free* information to use. Personalization makes the reader feel important, significant, and valuable.
3. A Clear Call-to-Action (CTA)
Readers scan emails for value and pertinent information, a clear CTA is of the utmost importance. Your goal is to have a CTA that forces readers to stop in their tracks and take action — go to your website, watch a video about your products, join your mailing list, utilize a coupon, etc. Entice your readers to DO something, to become life-long customers.
CTA Best Practices
Make it above the fold so readers don't have to scroll in order to see it

Only have one — Include other links throughout but all should achieve single goal of CTA

Make it prominent and visually distinctive

Use action and urgency, yet be friendly
4. Optimize Body Content
How you want your readers to respond to your email is your CTA. The body of the email should cover why your CTA is important and the benefits your readers will reap in a clear, concise way. Short paragraphs and bullet points will be read while long paragraphs will be ignored. It's also important to include images in your email. An email with images speaks to the readers' emotions, conveying more than your words.
5. Brand Consistency
Your branding is what helps readers identify you. Your greatest ally while branding is consistency across the board. Consistency leads to loyalty and loyalty leads to successful businesses. Therefore, your emails should look, act, and feel the same as the rest of your visual brand and messages.
6. Mobile Friendliness
86% of emails were opened on a mobile device during Q1 of 2016. It is paramount that your emails are mobile-friendly. The images, links, text, etc. should be optimized for desktop, tablet, and mobile devices in order to appeal to all readers.
Below is an image that shows the difference between email optimized and not optimized for mobile. This is not the user experience you want to create for your business or brand.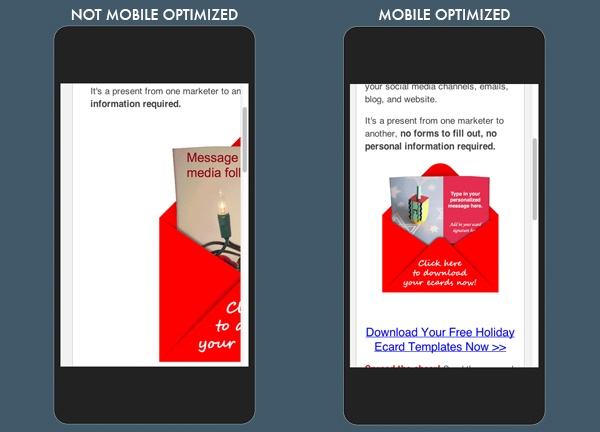 7. Track Your Emails
There are many types of emails to send, but no matter what, they must be tracked with some form of reporting. You could be creating the best email with outstanding metrics, or terrible metrics, but you wouldn't know either way if you don't track your emails and know the results of your efforts. The benefit of tracking email performance is that it will enable you to find areas of improvement and continuously get better.
Email metrics to track
Click-Through Rate — Percentage of email recipients who clicked through one one or more links in a given email

Conversion Rate — Percentage of email recipients who clicked a link within an email and completed a desired action, e.g., signed up for the newsletter, purchased a product

Bounce Rate — Percentage of your total emails sent that could not be successfully delivered to the inbox

List Growth Rate — Rate at which your email list is growing

Email Sharing/Forwarding Rate — Percentage of email recipients who clicked on a "share this" button to post content to social media, and/or who clicked "forward to a friend".

Overall ROI — Overall return on investment for your email campaigns.
Reaching that 98.4% of consumers in their inbox is the easy part, but a well-written marketing email is a little more difficult. Use these seven tips to write emails that get opened, clicked, and turn readers into customers.

Let us do the hard work, then you press send and see your customer base grow! Effective emails are our specialty.