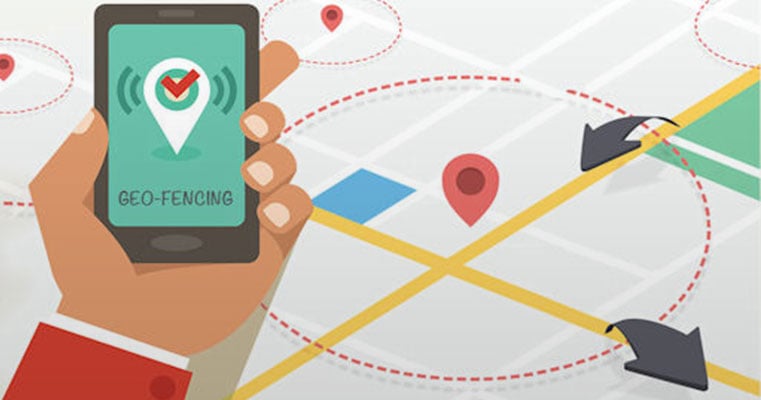 What is "geofencing"? Geofencing refers to the use of GPS to create virtual boundaries around a location. Software on smartphones can then use these boundaries in a range of tasks, from notifying users when they're near a restaurant to sending location-sensitive reminders for things like dry cleaning and groceries.
Since 65% of consumers open push notifications they receive, geofencing presents an unprecedented opportunity for you to target potential customers within a real-world geographic area or radius around a store or point location. Here are a few ways for you to get the most out of geofencing.
1. Make Recommendations Based On Geolocation
The level of precision enabled by geolocation far surpasses that of older location services. One simple use is to simply send notifications when people are near your location. The proximity adds a sense of immediacy to your call to action. Responding directly to someone's physical location adds a personal touch and direct connection that city-wide recommendations lack. Geolocation enables more relevant search results and recommendations than ever before.
2. Make sure there's a call to action
It's not enough to just let people know you're nearby - give them some incentive to stop in. A discount code or some sort of special offer can go a long way in getting more engagement. Help people associate your notifications with tangible positive effects, so they feel it's doing something for them, not just for you.
3. Allow users to personalize
Allow people to opt in or out. They should be able to create their own profiles and turn location services on or off at any time. Not only will this increase trust with your brand, it will allow users to customize their interests, which lets to further target your audience even further. Nobody wants to feel like they're being tracked without their permission. Don't let your push notifications become just another nuisance - build trust between your brand and the customer by making them feel they're in control of what they see.
4. Use location history
Location data can be used to inform your marketing campaigns, especially if location plays a key role in your app. Much like browser or purchase history, this data can be crucial to finding out who's interested in your brand or services. Spot trends in someone's location data, such as routes they often take or businesses they frequent, and you can use this data to increase your value to potential customers.
5. Analyze the data to make improvements
Geofencing campaigns generate data that you can use to measure success. What do people respond to? What do they ignore? Don't just create a campaign and put it out in the world - track the data in real time and make changes in response to target your audience further. Use this knowledge to inform your decisions going forward.
Not all geofencing suppliers have the tools provide a cohesive, multi-channel approach to using this technology. Right Idea Media and Creative has done the hard work of reaching high value consumers using geofencing technology to increase brand reach. Feel free to drop us a line with any questions!